MICROANALYSIS SYSTEMS FROM OXFORD INSTRUMENTS

EDS, WDS and EBSD tools for microanalysis and materials characterisation at the nanoscale.
The world renowned Oxford Instruments AZtec platform offers users the most comprehensive range of analytical capabilities for SEM, TEM and FIBSEM including:
Accurate, real time qualitative and quantitative elemental compositional analysis using unique Tru-Q technology for EDS analysis
Elemental distribution and phase analysis with real-time background and peak overlap correction
LayerProbe non-destructive Thin Film Thickness and Compositional measurement
Industry specific INCA Feature particle analysis and classification
AZtec Synergy for combined EDS and EBSD (Click here for more information on AZtec HKL EBSD systems)
---
ENERGY DISPERSIVE SPECTROMETERS (EDS) FOR SEM, TEM & FIBSEM
Oxford Instruments offers X-MaxN, the world's largest area analytical Silicon Drift Detector (SDD) for EDS analysis in both Scanning and Transmission Electron Microscopes
X-MaxN offers the world's largest SDD with sensors up to 150mm2
A range of detector sizes, from 20mm2 for microanalysis up to an astounding 150mm2 for advanced nanoanalysis
A doubling in speed over the previous generation
Up to four detectors can be installed for an active area of up to 600mm2
---
WAVELENGTH DISPERSIVE SPECTROMETERS (WDS) FOR SEM
Wavelength Dispersive Spectrometry (WDS) provides the highest resolution elemental analysis of samples inside an SEM. It provides superior X-ray peak separation and trace element detection.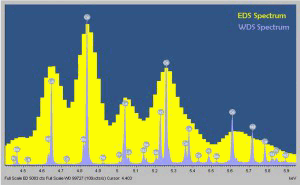 The Oxford Instruments INCA Wave delivers the power of WDX sensitivity and resolution with the enhanced productivity of the INCA platform. The graph shown above left shows how INCAWave WDS closely mirrors EPMA accuracy when analysing 32 different mineral grains containing low concentrations of sodium.
INCA Wave's superior peak separation and trace element detection using WDS results in:
The best results in microanalysis — approx. 10x more sensitive than EDS
Excellent resolution <<10eV for resolving important overlaps like S/Mo (see image above)
Ultimate sensitivity for trace elements (around 0.01wt.%)
Optimised detection for both low and high energy x-rays
Full goniometer movement with complete and continuous spectral coverage
Guaranteed performance specification for every spectrometer
Achieve the accuracy of an EPMA on an SEM as shown above
Use INCA Wave for accurate quantitative analysis below 500ppm
---
INCA ENERGY+ COMBINED EDS / WDS FOR SPEED AND ACCURACY
Get the best of both worlds for qualitative, quantitative analysis and unambiguous x-ray mapping.
---