COATING THICKNESS MEASUREMENT
Oxford Instruments offer a range of coating thickness analysers, gauges and SEM based systems for measuring a broad range of coating thickness on almost any metal substrate, whether ferrous or non-ferrous.
XRF-BASED ANALYSERS
X-ray Fluorescence (XRF) instruments work by exposing a sample to be measured to a beam of primary X-rays. The atoms of the sample absorb energy from the X-rays, become temporarily excited and then emit secondary X-rays. Each chemical element emits X-rays at a unique energy. By measuring the intensity and characteristic energy of the emitted X-rays, an XRF analyser can provide qualitative and quantitative analysis regarding the thickness and composition of the material being tested.
Benefits of analysis by X-ray fluorescence:
Minimal or no sample preparation
Non-destructive analysis
Wide range of element determination
Analysis of solids and solutions
Rapid analysis: results in seconds
Qualitative, semi-quantitative and full quantitative analysis
Easy to use with only minimal training
OXFORD INSTRUMENTS XRF COATING THICKNESS ANALYSERS PROVIDE
A COMBINATION OF COATING THICKNESS, SIMPLE MATERIAL AND LIQUID
ANALYSIS IN ONE INSTRUMENT
Maxxi-6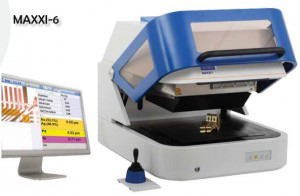 The Oxford Instruments Maxxi-6 is the latest XRF based coating thickness analyser from Roentgenanalytik (now an Oxford Instruments company). The Maxxi-6 is capable of analysing a wide range of elements: from P15* to U92 in the periodic table – allowing the measurement of almost every type of metallic coating. Its modular upgrade path offers potential for changes in requirements protecting your investment and minimising long-term ownership costs.
(* Measurement of P is concentration dependant)
X-STRATA 920 MICRO SPOT XRF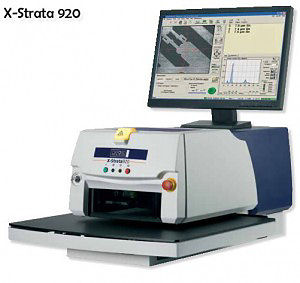 The Oxford Instruments X-Strata is a cost-effective, rapid and reliable XRF for coating thickness measurement and materials analysis. It offers a wide range of element determination, from Ti22 to U92.
Both the MAXXI 6 and X-Strata 920 comply with the following international coating thickness test methods using the XRF technique:
ASTM B568: Standard test method for measurement of coating thickness by X-ray spectrometry
ISO 3497: Metallic coatings – measurement of coating thickness – X-ray spectrometric methods
Applications include: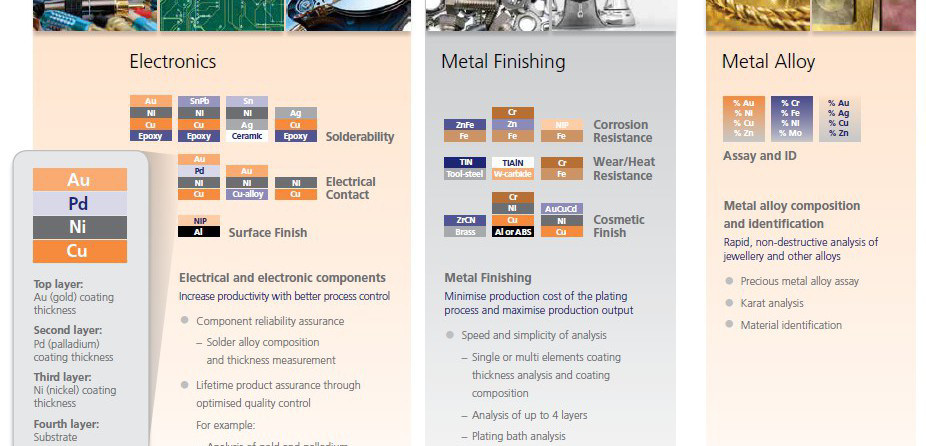 Contact us for more information
AZTEC LAYERPROBE MULTILAYER THIN FILM ANALYSIS SOFTWARE
AZtec LayerProbe is a non-destructive, high-resolution solution for layer thickness and composition characterisation in a Scanning Electron Microscope (SEM / FIBSEM)
LayerProbe uses robust quantitative analysis routines available in AZtec and integrates them with powerful thin film analysis engine for reliable results. The software also includes a tool to predict solubility and to advise on optimum analysis conditions as well as a simulation tool to accurately simulate X-Ray spectra from layered specimens.
Non-destructive analysis with minimal sample preparation necessary
Predicts solvability and optimum experimental parameters to enable reliable, precise measurements
Analysis of layers down to 1nm thickness*
Total structure thickness up to several microns possible*
Includes simulation tool to generate simulated X-ray spectra of thin film structures
*Precise limits are sample dependent and can be determined using the Solvability Tool supplied with the software
For more information on AZtec and other microanalysis solutions for SEM, TEM and FIBSEM click here.
GAUGES

A wide number of portable gauges for coating thickness measurement are available from Oxford Instruments X-ray Technology with either integrated or tethered probes.
Applications include:
Paint & Powder
Automotive & Aerospace components
Appliances
General industrial items
Architectural parts
Electroplating & metal
Fasteners (steel bolts, nuts, washers)
Internal automotive parts
General metal finish
Contact us to see which gauge is right for your application.
---