ALICONA MEX ® - TURN YOUR SEM INTO A 3D MEASUREMENT DEVICE

Alicona MeX® is a standalone software package that turns any SEM with digital imaging into a true surface metrology device. Using stereoscopic images the software automatically retrieves 3D information and presents a highly accurate, robust and dense 3D dataset which is then used to perform traceable metrology examination. The results are obtained irrespective of the SEM magnification providing metrology at macro and micro levels.
HOW DOES MEX® WORK?
The image formation process in the SEM is based on perspective projection. Similar to a conventional light microscope, the three dimensional object is projected onto a two dimensional image plane and information about the third dimension is lost. Note the large depth of focus in SEM provides full depth of focus images but does not allow the user to measure depth. Only two dimensional measurements in the image plane are feasible.
Eucentric tilting of the stage, meaning that the intersection of the primary beam with the specimen defines the centre of tilting, yields a second image of the specimen observed from a different viewpoint. A so-called stereoscopic image is generated. Overlay techniques such as red-green colouring provide anaglyph viewing and thus depth perception but again no quantitative analysis.
The leading technology of Alicona now automatically identifies points in each of the images that belong to the same point on the specimen. From these so called homologous points the true three dimensional coordinates of the observed point can be recovered. This demanding task is robustly solved for each pixel in each of the images and thus a dense 3D model of the specimen is obtained. An additional third image captured from a third tilt position allows to automatically refine given calibration data. Thus traceable results are obtained.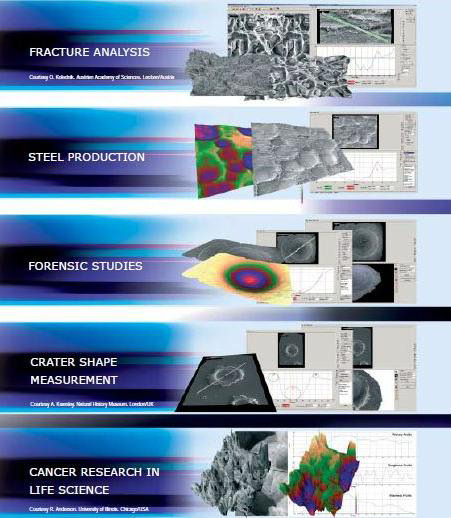 WHAT CAN I MEASURE USING MEX®?
The latest MeX® v 6.0 provides a milestone in traceable metrology using the SEM with new Contour, Difference and Form fitting modules complementing the existing Profile-Form measurement, Profile-Roughness measurement, Surface Texture measurement, Volume measurement and 2D Image analysis modules.
Please contact us for more information and how to get a demonstration of MeX using your images or visit www.alicona.com
---